Lesson 1: How To Navigate This Course
Lesson 1: How to Navigate This Course
Hello again and Welcome to the "Ditch the Budget!!!" course.
This is the starting place for you if you're struggling with the traditional "budget" spreadsheet and just not making progress growing your savings.  
This is also a great way for you to experience my personal teaching style and see if you like it for moving forward with more advanced courses and one-on-one services. We do things just a little differently here :)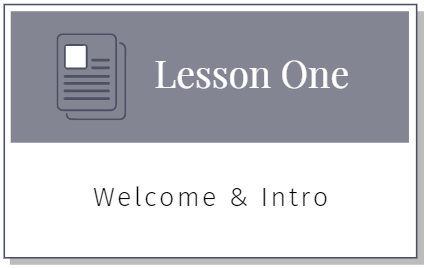 The Course Outline is broken into 3 sections with me explaining
"The Madness" behind the concept of keypunching spending into a spreadsheet (really? who came up with that???).
"The Method" of making the switch to a more effective way that's more realistic for today's fast-pace way of living.
"The Mindset" of PLANNING to spend therefore empowering you with making a choice, vs feeling you can't spend.
There are Course Guides starting with the one attached here.
These are meant to help you follow along and take notes and jot down ideas you get as you're listening to the lessons. Keep in mind, they are PDFs so you can write on your tablet if you don't have a printer.
I do think the writing part is important though, vs. not writing and just listening. It makes a difference!
Lessons 2, 3, and 4 share the same course guide, but feel free to duplicate if needed. 
When you've finished lessons from Section 2, Section 3 has a final worksheet that will get you started on your own right at home. 
Thanks again for checking us out.  
Have fun!